Katz Global's Offshore Hosting Solutions

Anonymous + Offshore = Total Hosting Freedom!™

Order Here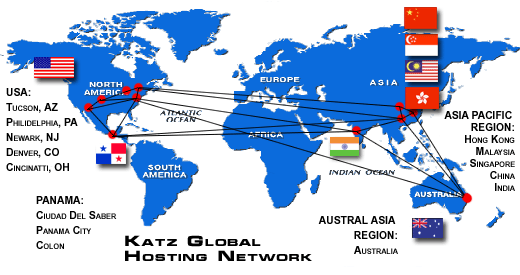 We have extensively researched and hand picked the best locations for hosting websites in the world.
We have selected these locations with our client's needs in mind, based on worldwide surveys and 7
years of experience in hosting websites around the globe anonymously.
---
Shared Offshore Hosting Plans
One Low Price / your choice of location:

• Hong Kong Shared Hosting Servers
• Singapore Shared Hosting Servers
• Malaysia Shared Hosting Servers
• India Shared Hosting Servers
• China Shared Hosting Servers
• Australia Shared Hosting Servers

Click Here to Review our Offshore Hosting Shared Plans



OR

---
Reseller Offshore Hosting Plans
One Low Price / your choice of location:

• Australia Shared Hosting Servers
• Hong Kong Reseller Hosting Plans
• Singapore Reseller Hosting Plans
• Malaysia Reseller Hosting Plans
• India Reseller Hosting Plans
• China Reseller Hosting Plans

Click Here to Review our Offshore Hosting Reseller Plans



OR

---
Dedicated Offshore Hosting Plans
Offshore Dedicated Server Plans
in 7 Distinct Countries Including:
• Hong Kong
• Malaysia
• India
• China
• Australia
• Singapore
• United States

Click Here to Review our Offshore Dedicated Plans
---
Anonymous Offshore E-mail-Only Plans
Optional Locations:

• Hong Kong e-mail Plans
• Singapore e-mail Plans
• Malaysia e-mail Plans
• India e-mail Plans
• China e-mail Plans
• Australia e-mail Plans

Click Here to Review our Offshore e-mail Plans
---
We have taken great care to provide a quality offshore hosting service that includes the following 10 most sought after attributes in a hosting provider:
#1. Reliable Uptime
#2. Lightning Fast Data Speeds Worldwide
#3. Enhanced Data Privacy
#4. Low Cost Hosting Solutions
#5. 24 Hours - 7 Days A Week - Technical Support
#6. A Large Variety of Hosting Options and Server Locations
#7. Data Security
#8. Multiple Payment Options
#9. 14 Day Money Back Service Guarantee
#10. A Friendly, English Speaking Sales & Support Staff
Learn about our network infrastructure: Click Here

---
Offshore Hosting FAQs • Terms of Service • Acceptable Use Policy






We are proud resellers of cPanel, Plesk, Ensim and GeoTrust SSL Certs


---
- Other Pages on this site -
http://www.katzglobal.com/hosting/plans.html (Anonymous Hosting in the USA) - linux
http://www.katzglobal.com/hosting/plans-win.html (Anonymous Hosting in the USA) - windows
http://www.katzglobal.com/hosting/anonymous-domains.html (Anonymous Domain Names)
http://www.katzglobal.com/hosting/offshore_email.html (Anonymous e-mail from KATZ)